Colorhouse is more than just paint. It's a lifestyle brand—a conscious choice embraced by those who value a meticulously curated collection of truly eco-friendly paints. With too many chemicals and too many color choices on the market, Colorhouse removes the toxins and palette guesswork without sacrificing paint quality. With this in mind, we redesigned to inspire, not overwhelm. Everyone from moms to millennials can now use the website to envision the artist-crafted palettes throughout their homes, make informed choices, and purchase their perfect eco-friendly color online—and we're only in the initial phase of this project. Just wait and see what we've got on the horizon.
Strategy
Colorhouse produces safe high-quality products and sells as much paint online as it does to sustainability-minded retailers. Fresh off a rebrand and armed with third-party research and customer surveys, we analyzed and pooled all the data to build a comprehensive strategy for not only the site but also social campaigns and ongoing improvements. Considering how detailed and interactive the site is across all platforms, we wireframed until our fingers bled (almost) to ensure a robust, interactive experience from phone to tablet to desktop.
Moodboards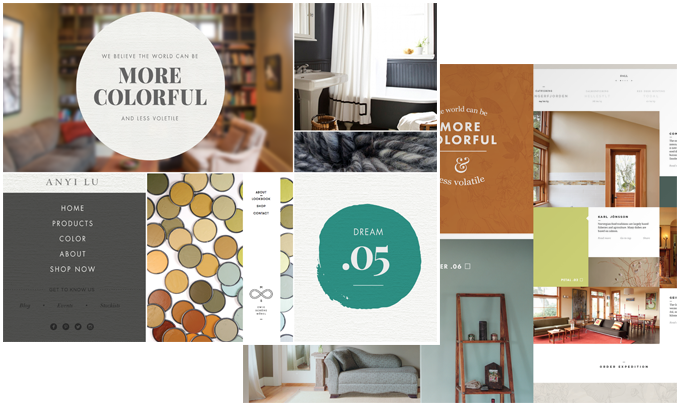 With a fresh rebrand as a jumping-off point, we dove into our moodboard process in which we identify visual indicators of the site's tone and feel. While we don't nail down specific design elements at this point, through internal strategy meetings and the client's constructive feedback, we determine a visual benchmark from which our designers derive creativity. Our moodboard process revealed the current grid-based design as well as some side navigation elements—all carried through to the final website.
Revisions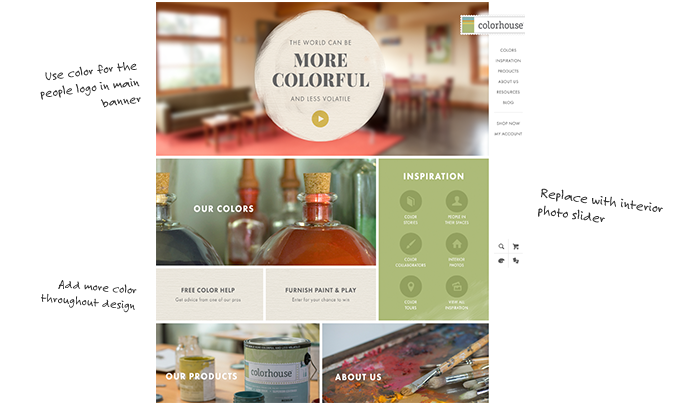 Every design is an iterative process, but rarely are the clients discerning artists themselves. Throughout the process, we were challenged and praised, occasionally within the same sentence, which caused us to take a step back and really consider a decision and the rationalization behind it. The final design is an authentic collaboration between our designers and the client—merging client feedback, internal colleague evaluation, and our own research and expertise to create the best online paint shopping experience possible.
Design
Every collection has its own story. Every color, its own voice. How do you communicate the incredible depth and scrutiny that each color endures without the website getting in the way? Welcome to the key challenge we faced throughout the design process and the question that kept us up revising and subtly tweaking until well past our bedtimes. The result is clean and elegant and, better yet, it guarantees that the spotlight remains on the color.
Responsive
As mobile browsing continues to eclipse desktop surfing, it becomes increasingly apparent that building specific apps for the major mobile platforms is an arduous and expensive undertaking. Why not build a website once and have it intuitively scale to thousands of different screen sizes—from a smartphone to a 27" monitor? Because most of us don't take our computers to the paint store, it was particularly crucial to scale the site down to mobile without sacrificing usability or functionality. We allow customers to easily find a color, read about environmentally responsible products, and even hold their paint choice against a wall like a swatch (if they're so inclined)—without the drudgery of resizing, panning, and constantly scrolling.
Color for sale
Colorhouse is unique to say the least. In a $25 billion dollar industry, it's carving a niche with an online-focused strategy that caters to consumers conscious not only of a product but also of its value propositions. This is an audience that is buying and painting its first home and is used to shopping online—and might actually prefer it.
The initial phase of the e-commerce integration allows customers to shop through the website and prepopulate a paint purchase at either Amazon or Home Depot (.com). Alternatively, customers can use the site's store locator feature to find the nearest sustainability-minded retailer that carries Colorhouse paint.
Result
Colorhouse is a model client. Its defined direction, practical feedback, and contagious passion allowed us to take an initial concept and run with it. With Colorhouse fresh off a rebrand and quickly building a following, we created an intuitive, compelling website and microsite focused on user experience and on providing safe, high-quality paint.
"Colorhouse is a great partner, and I'm excited for what the future holds. The site really shows how collaboration and trust build a great working relationship and deliver an outstanding website. Working with creative people can be a challenge, but they really trusted us in all phases of the project. This gave our team freedom to explore creative solutions for design and development. It's always fun working with a brand that knows who it is and how it wants to be seen online but is not afraid to trust others to take that vision and bring it to another level."
"From day one, I was eager to see what we could do with a product as unique as paint. We're essentially selling color, which provided some interesting challenges and opportunities. I love how we tied individual colors to each blog post and what we came up with for the cart. I greatly enjoyed this initial phase, and I'm excited to move forward."
"Working with an incredible client always helps the process go more smoothly. The collaboration level was exceedingly high, and both of our teams were constantly bouncing ideas off each other to help make this site beautiful. I really enjoyed building the intricacies of a color's ability to connect to anything else within the site so that it is color that ties the site together."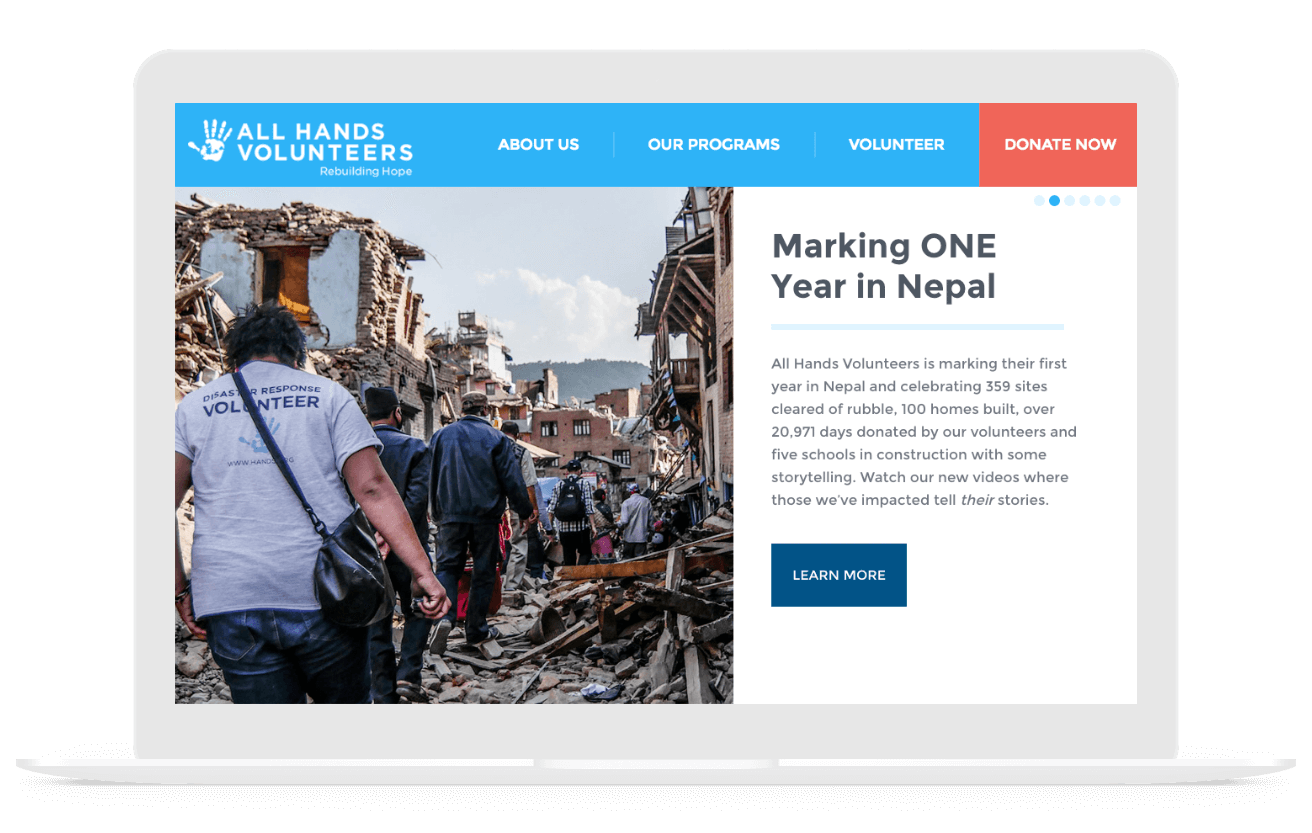 All Hands Volunteers
Inspiring Action
Teaming up with the do-gooders at AHV to produce a responsive, easy to manage website was empowering. Now they can tell inspiring stories of individual disaster relief efforts and engage potential volunteers and donors to learn more about AHV's backstory and initiatives.
Case Study